Teacher Training at Paragon
Whether you're a student, teacher or physical therapist, Paragon provides classes and workshops customized to your needs and professional goals.
At Paragon, we offer the highest quality Pilates, CoreAlign, Bodhi Suspension, and MOTR training through one of the world leaders in the industry, Balanced Body Education. We also design our own continuing education curriculum based on our Pilates, physical therapy and dance medicine expertise.  We are pleased to now offer Pilates certification for physical therapists through Balanced Body.
To view the Balanced Body Education Catalogue click here.

Education certifications
Our Pilates teacher training program is part of the Pilates Method Alliance (PMA) Registry of Schools and teaches both the classical and rehabilitative aspects of Pilates. We also hold a Private Career School Licensure designation through the State of Minnesota and all courses are approved for American Council on Exercise (ACE) credit.
Education facilities
Classes and workshops are taught in our studio giving you a hands-on opportunity to learn on a variety of Pilates equipment including reformers, wall units, trapeze table, ExoChairs, MOTR, Bodhi suspension systems, CoreAlign units, and more.
Our education affiliations
Courses offered
At Paragon, we are committed to the highest quality teacher training and continuing education workshops for students, teachers and physical therapists.
Whether you are interested in teaching mat classes or expanding your physical therapy practice, we have the resources you need to help you and your clients succeed. Our training program will help you become a confident, creative and inspiring Pilates teacher.
The CoreAlign was created to enable natural, flowing full-body exercises with independent limb training. It integrates posture, strength, flexibility, balance, control and proprioception in all functional positions. It's a great rehabilitation tool for physical therapists and their patients and a great environment for high-level sports conditioning.
Suitable for all levels of fitness, the Bodhi Suspension System stimulates the deep support systems in the body to create integrated, fluid and functional movement. Exercises on the Bodhi can be gentle and rehabilitative, challenging and athletic, and sometimes, incredibly acrobatic.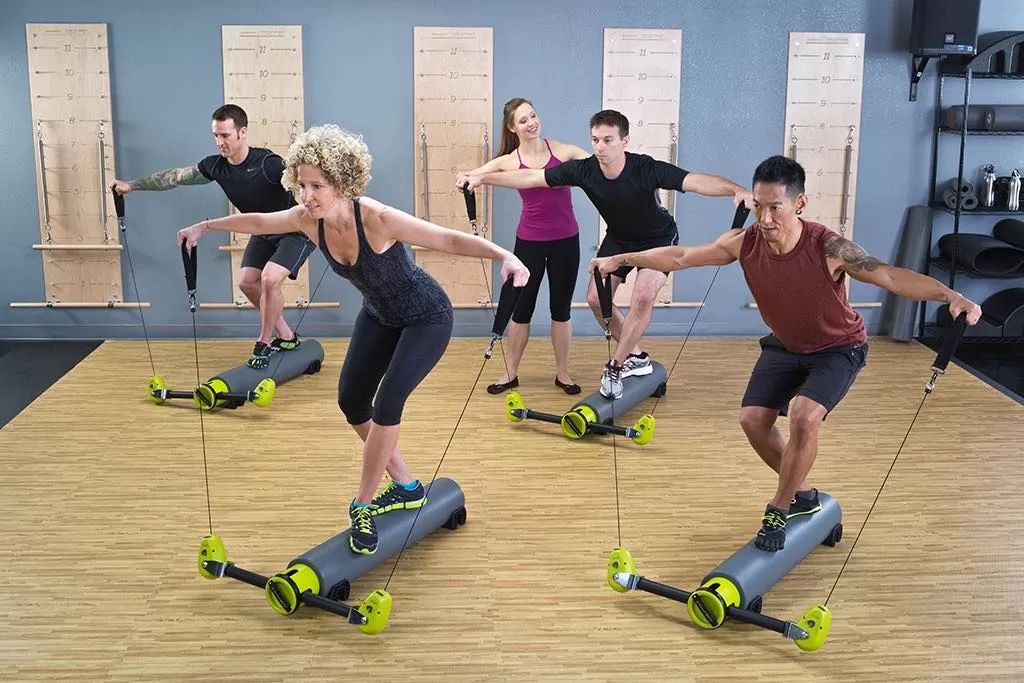 MOTR may look like a roller but it's much MOre Than a Roller. MOTR's versatility offers unlimited programming and limitless results. It's a complete gym in a 43" cylinder. Improve your strength, balance, agility, sports conditioning, cardio – even Pilates! Then stow in a closet when you are done.
Anatomy in Three Dimensions is a fun, hands-on way to learn musculoskeletal anatomy by building all of the major muscle groups out of clay and attaching them to a specially designed skeleton. You'll gain a greater understanding of the body as you build it from the inside out.  We offer courses for everyone, and courses more specific to movement educators of all kinds.
Designed for Pilates teachers, our mentor series will expand your expertise and help you address very specific health conditions. Learn how to design programs for sports-specific conditioning,  prenatal and postpartum clients, shoulder and spine conditions, foot and ankle injuries, and so much more.
Paragon Pilates and Physical Therapy also offers continuing education on a variety of topics. From private dance studios to corporate meeting rooms, Paragon can enhance your organization's commitment to wellness. We offer educational presentations and hands-on classes highlighting a variety of topics.  We are pleased to now offer Pilates certification for physical therapists through Balanced Body.
From working with dancers to basketball players, expand your Pilates practice with these informative instructional videos hosted by Paragon's owner, Cari Riis Stemmler.
Interested in buying your own Balanced Body equipment?
Engineered for flawless performance. Built to exacting specifications. Finished like fine furniture. No wonder Balanced Body equipment has been the first choice of Pilates professionals worldwide for 40 years. It's the finest equipment you can own. Contact Balanced Body for your Pilates and fitness equipment purchases!
www.pilates.com